Riding to the end of 2020!

When I last wrote to you in April, no one knew what the state of our world would be like by summer much less what would be happening for this holiday season. It's been a wild ride, for sure, but I pray you're all staying healthy and doing well.
As I'm sure you know, all of our programs this year were cancelled after March with the exception of a class for Baldwin-Wallace's Institute For Learning In Retirement, a Grandma Gatewood program for the Rocky River Library and a Pearl Harbor commemoration for Kathryn Eyring and Aging Gracefully TV — all done via Zoom.
BW bravely forged ahead with its Fall Semester on zoom. I did three sessions commemorating the anniversaries of 2020: the 75th Anniversary of WWII, the 100th Anniversaries of Prohibition and Suffrage and the 65th Anniversary of Grandma Gatewood's hike. Rocky River Library celebrated Emma's hike as well. Our Pearl Harbor story kept the memory of the WWII anniversary year in our minds and gave us hope that this year's enemy will also be conquered.
Of course, you all know about our documentary, TRAIL MAGIC: THE GRANDMA GATEWOOD STORY, being honored this year by the WRPN Women's International Film Festival and the Indie Gathering. These special awards helped make this 65th Anniversary of her hike special.
On the "in progress" side, an anonymous donor underwrote a new curriculum guide to go with our inventor's program, WHOSE IDEA WAS THAT? Teacher Nancy Mitchell created some wonderful activities to bring the story of these creative Ohioans to life. We are in the process of finalizing the book which should be available by early 2021. It will join our existing curriculum guides on the Great Lakes (LADY OF THE LAKE) and the Underground Railroad (RISE AT SUNRISE, REST BY MIDNIGHT). If you're a teacher or a home-schooler looking for additional resources for your middle-school students, check out our publications.

In the meantime, Kelly Boyer Sagert and Pamela Dorazio Dean are moving ahead on our upcoming book and program about Cleveland Browns Hall-Of-Famer Dante Laveilli which is being sponsored by his daughter, Lucinda, while I continue working on LOST RESTAURANTS OF DOWNTOWN CLEVELAND for Arcadia Press. The problems caused by COVID have forced us to put our Victoria Woodhull project on hold until things loosen up a bit. Peter Huston is looking forward to that as are we all!

As you can imagine, this year has taken a toll on us — as it has for so many small non-profits all across the country as well as businesses in general. We extend our gratitude to the Ohio History Connection (formerly the Ohio Historical Society) who awarded us a COVID Relief Grant earlier this year and to those of you who sent in donations through-out the year to help us during this time of crisis. Though we were not able to generate income with our performances, we were able to generate EXPENSES just keeping our doors open. These gifts have helped us move forward in our efforts to tell the stories that others forget. We thank those of you who are able to provide us with continued support for our programming and if you can donate yet this year, we would be very grateful. You can find information on sending us a check or donating online with a credit card through PayPal. If you're still doing your Holiday Shopping -- remember that you can use Amazon Smile to help support our programs and Amazon Smile will donate to EVE at no cost to you!
At the end of the year, it's always good to let you know that all of us at Eden Valley thank you for all your support as a donor, an audience member and a presenter. We look forward to more trips back in time next year.

Best Wishes for the Holidays

Bette Lou Higgins
Artistic Director

P.S.: If you or your group are looking at making plans for 2021, I am accepting bookings while making backup plans for any possible impact by the virus. Just reply to this e-mail to make arrangements. In the meantime, be sure to check our calendar regularly to see when we might be out in your area!
---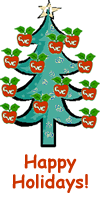 Since you can't come to a program to hear some Christmas stories this year, here's one from our STORIES FROM A CHRISTMAS PAST book about "Whistling Ben Hanby" to put you in spirit!