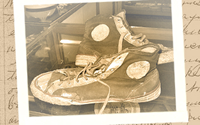 TAKE A HIKE WITH GRANDMA GATEWOOD!
Our three Grandma Gatewood programs are traveling around
The storytelling program, GRANDMA GATEWOOD: OHIO'S LEGENDARY HIKER

The one-actplay, EMMA GATEWOOD, ARE YOU OUT OF YOUR BLOOMIN' MIND?! (An Appalachian Tale)

The Emmy Nominated documentary, TRAIL MAGIC: THE GRANDMA GATEWOOD STORY
We hope you can join us for one or more presentation.
Come see the Emmy-nominated film, TRAIL MAGIC: THE GRANDMA GATEWOOD STORY, on:
Friday, August 8, 2018 for the members of Linwood Park in Vermilion, Ohio.
Thursday, September 27, 2018; 1:00 p.m. at the Lorain Public Library at 351 6th St. in Lorain Ohio. for more information contact Scott Machol or Cheri Campbell at the library at (440) 244-1192. The program is FREE and open to the public.
---
Visit often to see what other performances are coming up. To receive notices of upcoming events, send us an e-mail with a request to be added to our e-mail list.

To arrange for a performance for your group, send us an e-mail. For more information, you can download a brochure.

Can't make it to a performance? Check out our e-book and storytelling video or get a copy of the documentary DVD.

You can find our Grandma Gatewood videos at many libraries and stores.
---
Find us on Facebook: