Since TRAIL MAGIC: THE GRANDMA GATEWOOD STORY was first shown, we have been taking the film to organizations across the country. Many people have been kind enough to send us their thoughts on the film, including:

Darren LaShelle, Director of Content at KRCB North Bay Public Media in Rohnert Park, California: I never got a chance to tell you how wonderful your film is and how much I enjoyed it. I hope the good public media people of Ohio have the sense to air it and celebrate it!

Laurie Potteiger, Information Services Manager, Appalachian Trail Conservancy: I've now had the pleasure of watching the film in its entirety a couple of times. It's really wonderful! Emma Gatewood has such a great story, and you've told it so well and so beautifully. It's one of the best and most interesting documentaries ever made about an Appalachian Trail hiker.

Loring Lovett, Corporate Support Representative, WOUB Center for Public Media, Ohio University:The Grandma Gatewood Story reflects the spirit, toughness and determination of the people in the Appalachian region.

Robert Proudman, Director of Conservation Operations Appalachian Trail Conservancy: It is a wonderful film and I'm pleased to have been a part of it.

Ron Tipton, CEO, Appalachian Trail Conservancy: I was happy to be able to see "Trail Magic."! You told a great story very effectively.

Carl & Mary Lou Gatewood, Emma's grandson (April 23, 2016 presentation): ... outstanding work on "Trail Magic" - Grandma would be so proud & honored.

Robert Grau, AT thru-hiker, author of Five Million Steps on a Journey of Hope: Thru-Hiking the Appalachian Trail: As a thru-hiker of the Appalachian Trail, I fully appreciate the remarkable courage and determination of Emma (Grandma) Gatewood. She is truly a legend! Thank you Eden Valley Enterprises for sharing the amazing story of this hiking pioneer.



Pea Jay, posted on Facebook 3/2/16: I saw this in Gallipolis, OH. If you have not seen it I highly recommend it. Very interesting, well thought out program.

Terry Jones, President, Friends of the Library of Flagler County (March 18, 2016 presentation): It was such a pleasure ... having you at our Library! Let me say, you never know what you are going to get, and I wasn't sure what to expect; but I can now say that the documentary/movie exceeded my expectations. I truly hope your endeavors will eventually grant you the opportunity to get the DVD out so more and more people can be so inspired to walk the AT. ... I felt Grandma Gatewood was an ordinary person that did something extraordinary. She gave us, all the ordinary people, something to strive for. In the long run, for me, your documentary brought it all together. Peter, you did a great job. The documentary was great and the stories and information you shared made it that much more special. I am so pleased you joined us today!

David Bamberger, Artistic Director, Opera Program
Cleveland Institute of Music (March 26, 2016 presentation):TRAIL MAGIC is brilliant. It vividly brings to life the inspirational story of Grandma Gatewood, integrating it with the developing women's rights movement and America's growing appreciation of the natural world. Reenactments and historical film footage flow into each other seamlessly. Excellent music, first-rate acting, and outstanding cinematography combine to make this a documentary that is fascinating, educational, and consistently entertaining. TRAIL MAGIC deserves to be seen by the largest possible audience.

Susan Phillips, (January 19, 2017, e-mail): ... Y'all did a wonderful job with the documentary! ... My niece and her husband met on the AT when they were attempting to thru-hike after college. They have 3 children now, and I wanted to share Grandma Gatewood's story with them via the DVD. ... I hope you sell lots of DVDs because you tell a wonderful story about a remarkable woman that needs to be shared. Thank you for bringing Emma's story to life.

Julie Poehlman , (February 11, 2017, e-mail): ... You should put a warning on the DVD.. " Beware, story may cause weeping!" ? I loved it. The music was perfect. I'll Fly Away is one of my favorites. Hearing the birdsongs and seeing the costar of the film, The AT itself was lovely. The gal who played Emma was so believable. The only thing I didn't (sic) like was it ended too soon. Well done! I confess I am a sentimental person, age 62. I have met many hikers and tried to provide Trail Magic. T'is more blessed to give.

C. Hunt, (March 9, 2017, letter): ... I just finished watching your documentary on Grandma Gatewood & the Appalacian (sic) Trail. It was such a well done piece. Thank you - Keep up the good work. The music was perfect & the actual TV footage of Ms. Gatewood with Grocho Marx was wonderful...

Karen Crawford, (May 13, 2017, e-mail) Upon receiving the DVD of TRAIL MAGIC: My husband and I immediately watched it and found it delightful. As both an avid hiker and a woman, I find Emma Gatewood's story to be inspirational!


Ambrea Johnson, Assistant Director, Programming and Promotions of the Bristol Public Library, Virginia (July 11, 2017, presentation) "... we had 15 guests for our free presentation of Trail Magic. We showed the movie within the same week as we received a visit from the Mount Rogers Appalachian Trail Club, so it was a great tie-in event! Several people said they enjoyed the movie and spent several minutes after the film chatting about their experiences with the Appalachian Trail, discussing the movie, etc. Overall, it was one of our most successful events in July!"

Cindy Hronek , Holy Spirit Guild Program Chair (February 15, 2018, presentation) "What a memorable 'movie' night we had with you!! When I first mentioned this program idea, many women had never heard of Grandma Gatewood's walk on the Appalachian trail (sic). No the case any more !! Emma Gatewood deserves not to be forgotten, so thank you for bringing her to us through your documentary. The inspiring story of her struggles and hardships and ultimate perseverance has lessons for us all."

Kaitlyn Fox, REI Virginia Beach (April 24, 2018, presentation) "REI Virginia Beach's film screening was a success! We had 20 folks register plus 1 on the waitlist, and had a total of 17 attend. REI provided popcorn & trail mix, and we set up camp chairs as seats. Feedback from participants was overwhelmingly positive. This was the first time our store has ever shown a movie, so we weren't quite sure what to anticipate, but everyone left happy! "
She sent this picture: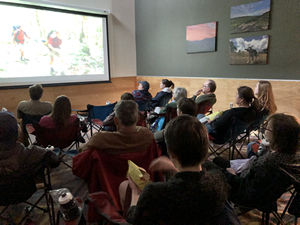 ---
Do you have a question or comment about our film? Send us an e-mail!
To find out where our Grandma Gatewood programs are showing, visit our calendar page.
Back to Film Comments Home.