Please join us to tell the tales that others forgot with a tax deductible donation.
Right now we are busy working on a documentary about Victoria Woodhull -- first woman to run for US president in 1872 and creating curriculum guides for students based on our history programs to assist parents and teachers. Your donation will help support these and all of our programs.
You can send a check made payable to Eden Valley Enterprises; 1250 East River St., Elyria, Ohio 44035 (download a convenient PDF form) or pay online with PayPal by pressing the "Donate" button below. (As a not-for-profit organization under section 501(c)(3) or the Internal Revenue Code, all donations are tax-deductible. You will receive an acknowledgment for tax purposes.)
There's no such thing a "small donation"! We appreciate your help.

You can also help us as you shop by using our partner websites for your Internet searches and shopping:
use GoodSearch.com for all your Internet searches and use GoodShop.com for all your Internet shopping. It's easy and free and each of your searches sends money directly to Eden Valley. To learn more, click here.
Your Amazon.com purchases made through the Eden Valley website, help support us, too! There is also an app for your phone. Simply follow these instructions to get the app to donate to EVE:

1. Open the Amazon Shopping app on your device
Go into the main menu of the Amazon Shopping app and tap into 'Settings'
2. Tap 'AmazonSmile' and follow the on-screen instructions to complete the process.
3. If you do not have the latest version of the Amazon Shopping app, update your app. Click here for instructions.
You can shop at

ShopForYourCause

. Simply register on the site, choose Eden Valley Enterprises as your cause, and shop! Any purchases made through this site, will provide a donation to Eden Valley -- it's that simple!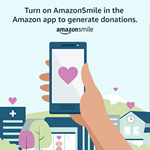 Thank you for helping us!