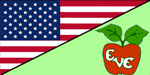 American History Programs
American Spirits: This storytelling program is based on EVE's book by the same name. These stories were written by Eve's special Ghost Writers: Estelle Rodis Brown, Carolyn Jack and Kelly Boyer Sagert. Discover some unique spirits as you take a ride with Tempe Wick as she tries to save her beloved horse from deserters from the Continental Army, meet Frances Dallam who wants to make sure the Union Soldiers are taken care of, visit Mall of America's spirited past and find out why Reindeer Manor is haunted. Watch a video of The Girl In The Window (the story of Frances Dallam).

Around America -- 50 States in 40 Minutes (or less!): Take a quick tour of the U.S. and discover some interesting tidbits and personalities from each state in this storytelling program with PowerPoint.

Battle Scars: Stories Of The Civil War: Find out about the song that kept the war going -- on BOTH sides and has sort of become its own war! Learn about the Great Escape at Libby Prison and about the failed "escape" at the Johnson's Island Prison. These are some of the stories in this storytelling program commemorating this watershed event in American History. (See a video of a performance)

From A Crash To A Bang: Music and narration about the Depression based on oral histories. (also available as a storytelling program)

I Hear America Singing: Historical Moments Marked With Music! Take a trip through US history through song with this storytelling program with PowerPoint.

Moving Right Along (A Rambling Look At The History Of Transportation): Travel through time and learn about the history of transportation.

Ordinary People In Extraordinary Times: Stories From World War II: Stories from this unforgettable time include the harrowing tale of Margaret Bourke-White and 400 nurses who were torpedoed on their way to Africa, the story of Rodger Young who became a hero through his selfless courage, and the touching story of the soldier and the girl "back home" who continue to write to each other to this very day.

Please Welcome, Mr. & Mrs. America: Take a look at the lives of some of the US Presidents and their wives from Washington to Eisenhower. (Companion Book Available)

Salute To Swing: Music and narration featuring the music of World War II.

Under Construction: Amazing Architectural Achievements: Americans built this country from the ground up! Discover some of Colossal Constructions such as Grand Central Station, The Gateway Arch in St. Louis, The Timerberline Lodge in Oregon, and The Golden Gate Bridge.

You're A Grand Old Flag: Stories Of The American Spirit: This program spotlights patriotic people and places. Entertainers like George Cohan and Bob Hope were recognized for their American Spirit with Congressional Medals. When the Continental Congress needed someone to print their Declaration of Independence, they found an unusual printer waiting for them in Baltimore. Hear the story of what is arguably the most enduring symbol of the American spirit. You'll find yourself humming "You're A Grand Old Flag" all the way home! Get a FREE copy of our E-book, "Fifty Stars -- the B-Minus American Flag"
All storytelling programs are researched, scripted Reader's Theatre presentations.
---

Did you know that "America the Beautiful" was written by Wellesley College instructor Katharine Lee Bates in 1893 when she took a rough wagon ride, followed by an exhausting hike to the top of Pike's Peak, Colorado?