THE EDEN VALLEY STORY (A 40TH ANNIVERSARY SERIES)
as told by Bette Lou Higgins, Artistic Director
PART 12
In 1978, we added a special "Christmas In Johnnycake" presentation for the holiday season. These performances were held at Virginia Kendall Park in their beautiful shelter house constructed by the CCC. This re-creation of Christmas on the Western Reserve turned out to be more special than we could have imagined.
One of the first recorded instances of a Christmas Tree in America was in Wooster, Ohio, so the beginning of this tradition was the basis for our scenario. Set in 1840 at the home of Rev. Schmidt, we had a tree-trimming party 1800s style -- that meant no electricity (only the lights from the two fireplaces and the candles), handmade ornaments of popcorn strings, yarn and apples, and carols sung to the accompaniment of a guitar, played by our Village musician, Luke Mansfield (Ken Schworm). Our visitors were welcomed to the party and everyone could participate in making ornaments -- we popped popcorn over the fires in the fireplaces and strung it and hung it up. We had little yarn dolls being made in one corner and another group put T-pins with ribbons into apples for the tree. Everyone decorated the trees and joined in the carols and just plain visiting.
When the tree was complete, everyone gathered around the tree in a big circle while Rev. Schmidt read the story of the birth of Jesus from the bible. Afterward, everyone sang "Silent Night" to Luke's guitar accompaniment.
It was so moving. Some of the adults cried. As they left many people told us they had never experienced a Christmas celebration that beautiful before and said they intended to make that their new tradition. The children loved making the popcorn strings and ornaments. As they left, they were picked up in a horse drawn wagon to be taken to their cars and back to the twentieth century -- hopefully inspired to enjoy more of the simple moments of life.
Silent night, Lovely night!
Christmas in Johnnycake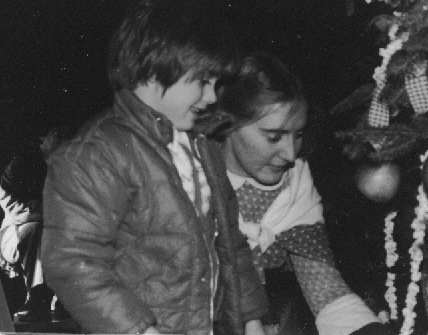 Elizabeth Mills (Jackie Chesney) gets a little help trimming the tree (above) as the rest of the tree is decorated with handmade ornaments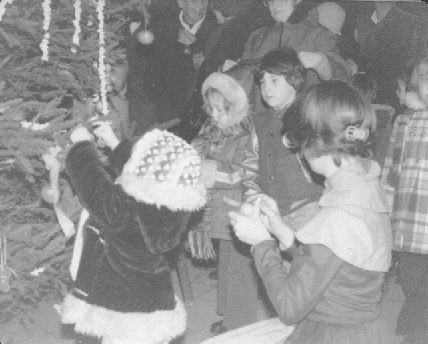 To be continued ...